MEET THE STAFF
Butch Burney, Chamber President/CEO
A native of Hopkins County, Butch Burney is the President/CEO of the Hopkins County Chamber of Commerce. Butch is a graduate of Sulphur Springs High School and Sul Ross State University.
He received a Bachelor's Degree in Communications from Sul Ross State University, where he was also a track letterman. He worked in print media for many years, including many years writing and editing sports and news for the Sulphur Springs News-Telegram.
Butch is currently on the Wildcat Hall of Honor Committee and the Hopkins County Civic Center Board of Directors. He has served as Chairman on the Chamber of Commerce Board of Directors and served in many capacities in youth sports and civic organizations.
He is married to Karen, a graduate of Como-Pickton High School and Paris Junior College's School of Nursing, where she received her RN degree. They have four children: Brandi Boles, Aaron Dodd, Alyssa Wimberley and Bradyn Hart; and five grandchildren.
"Working for the Hopkins County Chamber of Commerce is a dream job," Butch said. "We get the opportunity to promote this county and city, a place and a way of life that I love. I've always been a cheerleader for our community and believe that our best days are still to come."
Jaci Glenn, Office Administrator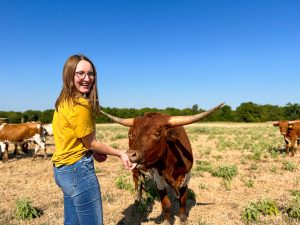 Jaci Glenn joined the team in June of 2019, immediately following her high school graduation and an enriching experience in the Chamber's High School Leadership Class. She serves as our Office Administrator, assisting in daily office management, offering guidance to callers and visitors and collaborating with the team to organize events throughout the year. With an ongoing pursuit of education, Jaci currently holds an Associate degree in Business Administration and remains dedicated to furthering her knowledge and skills.
Beyond her professional and academic commitments, Jaci enjoys leisurely shopping and dining at her favorite local businesses and, occasionally, venturing out to discover the unique establishments of neighboring areas. However, she finds the most delight in the simple pleasures of quality time spent with her loved ones and relishing cozy evenings at home, with her beloved cat, Jitterbug.
Jaci's roots run deep in Hopkins County, where she was born and raised, and she regards it a privilege to play a part in fostering local businesses in the place that she has always called "home."
Joel Newsome, Intern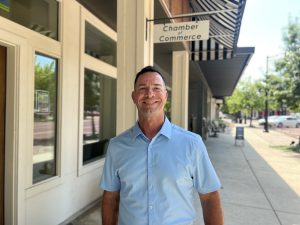 The Chamber of Commerce would like to welcome home a native son who has a distinguished and decorated military career for more than three decades.
We welcome Joel Newsom to the team here at the Chamber, where he will serve as an intern for the next three plus months. A native of Hopkins County, Joel graduated from Como-Pickton High School in 1990 and joined the US Army. After serving as an infantry officer in locations across the country and around the globe, Joel is now a colonel and will soon retire after 33 years of service to our nation.
Joel and his wife Amy are excited to return to their hometown along with four of their seven children. Amy is a family nurse practitioner who is providing primary care, holistic health, and aesthetic healthcare at Pierce MD and Elan Med Spa.
Their daughter Madilyn is a nurse in the Emergency Room at CHRISTUS Mother Frances Hospital in Sulphur Springs; their son Joel is a senior at Como-Pickton High School; and Abigail and Jed are in the 6th and 3rd grades respectively.
Their son Jackson and his wife Madison are located in Port Arthur, Texas, where Jackson serves as an ensign in the Coast Guard, while their daughter Hannah is a senior at the US Merchant Marine Academy at King's Point, NY.
Joel and Amy are grateful to be back in Hopkins County and look forward to plugging into this amazing community.
We are excited to have them back home, where we know they will enrich our city and county.