HOPKINS COUNTY STEW CONTEST
SAVE THE DATE
52nd Annual Stew Contest
October 22, 2021
Click here to check out the 2020 winners!
---
2020 Stew, We're Driving Through
Please remember… Friday, August 28th is the last day to submit your registration form to cook in this year's Hopkins County Stew Contest.  No registrations will be accepted after this date. If you have not received a registration form, please email lezley@hopkinschamber.org or call the chamber at 903-885-6515.
Note about changes to the 2020 Stew Contest:
We know you are wondering about the 2020 Stew… and we are, too! Cooks' letters are being sent this week. Once we know how many cooks will be cooking this year, we will take our safety and logistics plan to our city and county officials for approval. Hang in there with us… the Chamber is working diligently to plan your favorite event while keeping everyone safe. We want you to have your Stew, and eat it, too!!!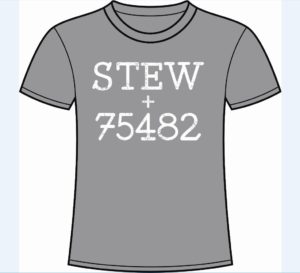 Now that we are all dreaming of delicious Hopkins County Stew, we have an announcement for you! The Chamber offered these shirts last year in a VERY limited number, and everyone wanted one! We are bringing them back by popular demand! You can stop by the Chamber or call to place your order, and they must be pre-ordered and paid for in advance. These are not the Stew shirts for the 51st Contest (those will be revealed closer to the contest… and BRACE yourselves for those!). These are shirts that you can wear all year that show your love for stew and the location in which it is held. They are offered in short sleeves, long sleeves, and hoodies; and they can be purchased in light grey or royal blue. Call the Chamber for questions! (903) 885-6515. The deadline is August 14!!
TRADITIONAL SCHEDULE
6:30 a.m.        All vehicles removed from park
8:00 a.m.        Stew Fest Market opens
10:30 a.m.      Turn in Stew
10:45 a.m.      Stew service begins
11:30 a.m.       Quart sales begin
1:00 p.m.        Announcement of winners
Information about the Contest
Wanna have some authentic East Texas fun and enjoy all the delicious homemade stew you can eat?  Then come to the World Champion Hopkins County Stew Contest the 4th Saturday in October in Sulphur Springs, TX.
Held on the 4th Saturday in October, the cook-off features over 150 4-person cooking teams competing for several thousand dollars of prize money.  Cooking over open wood fires, the teams prepare hearty chicken or beef stew in huge cast iron pots.
Each team must prepare a minimum of 10 gallons so that there is ample stew for judges and spectators.  For $6, spectators may visit as many campsites as time and appetite allow.  Some contestants use 20 or even 35-gallon iron stew pots.  Last year, the 160 cooking teams who entered fed over 7,000 people.  The World Champion Hopkins County Stew Contest is the biggest event held in Hopkins County throughout the year… and it's only getting better with time.
Teams entered in the competition start setting up early enough on Saturday to make the 10:30 a.m. deadline for providing samples to the judges.  Many teams have begun setting up as early as Friday morning and preparing supper foods such as beans, chili, Dutch oven desserts and more over their campfires for many visitors who tour the stew grounds Friday night.  Last year, over 2,000 people were on the stew grounds Friday evening to visit, eat, and reminisce about their favorite memories of the stew contest.
Stew is served at 10:45 a.m., but visitors are encouraged to get to the stew grounds early so that they may walk around, enjoy the atmosphere, and witness the cooking of delicious stew. Teams can even compete for "Best Campsite and Costume" and receive cash prizes.
History of the Competition

The cooking competition began in 1969, but the roots of the dish date from the late 1800s. The county had approximately 100 schools back then, and it became customary to celebrate the end of each school year with stew suppers that were cooked in iron pots over open hardwood fires.
In those days, there were no recipes.  Families just brought what they had and threw it in the pot.  The meat most likely was squirrel, and typically the most dominant vegetables were potatoes, onions, corn and tomatoes.
There was never a "written" recipe for Hopkins County Stew.  However, for the annual cook-off, contestants are encouraged to stay true to the five main ingredients always present in Hopkins County Stew: chicken or beef (no squirrel), potatoes, onions, tomatoes, and corn. Seasonings are completely up to the two-person cooking teams.  Most cooks have a secret ingredient that they will keep secret until the day they die, or pass on the tradition to one of their children or grandchildren. Needless to say, no two stews taste alike. Prizes are awarded for the best chicken and best beef stews.
For just $6, attendees will receive a bowl (for all the stew they can eat), along with cheese and crackers.  Then, if visitors want to take some stew home, they may purchase quart containers for $10 and enjoy the stew for many nights to come.
For more information, please contact the Hopkins County Chamber of Commerce at 903-885-6515.