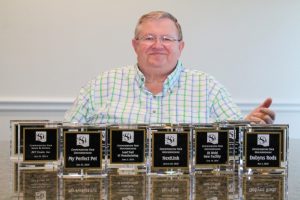 The Sulphur Springs-Hopkins County EDC will see a passing of the torch after almost 2 decades of success with Roger Feagley at the helm. Roger has announced he will retire in January, 2024, which will mark 19 years of service, providing assistance and resources of over $14m to nearly 40 local companies and projects. "It has been a pleasure to serve the Sulphur Springs community and it will continue to be our home" Feagley said. "We appreciate Roger's service and dedication to Sulphur Springs and Hopkins County" stated Tom Sellers, President of Sulphur Springs-Hopkins County EDC Board.
Roger has been the Executive Director of the Sulphur Springs Hopkins County EDC since 2005 and currently serves as Chairman of Team Texas, a member-based business attraction program through Texas Economic Development Council, the professional association for Texas economic developers. While working for Sulphur Springs, Roger has served in several capacities for the TEDC Board and the Board for Workforce Solutions of Northeast Texas, as well as being a member of numerous professional organizations, and has been given the distinction of "Fellow" with the Industrial Asset Management Council.
"The Board of Directors of the Sulphur Springs-Hopkins County EDC is excited to announce the appointment of Chris Brown as the new Executive Director" stated Board President Sellers. He will start with the SSEDC September 18th of this year. Brown has served as the Executive Director of the Ark-Tex Council of Governments (ATCOG) for almost 10 years. He and his family still live in Sulphur Springs and have strong ties to the community.
Brown is currently serving on boards for the Hopkins County Hospital District, the HC Chamber of Commerce, and NETBIO. Prior to ATCOG, Brown served as the Hopkins County Judge and as Mayor/Council Member for the City of Sulphur Springs. Brown is also the 1st Vice President for the National Association of Development Organizations (NADO) and Vice-Chair for TEX-21. His state level involvement has also included the Texas Assoc. of Counties and the Texas Assoc. of Regional Councils. "For over 20 years I've had the pleasure to support the work of many EDCs and help bring opportunities to all Northeast Texas," Brown said. "I look forward to learning from Roger over the next few months and focusing in on continuing the great work of the SSEDC."