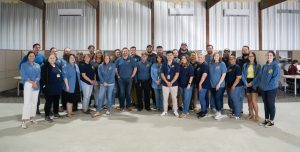 Exciting News! Thanks to our generous sponsors, including this year's title sponsor Alliance Bank, the Hopkins County Stew Contest is becoming even more affordable for families this year!
Kenny Rogers, Senior Director of People, Culture and Communication,, expressed their passion for creating local opportunities, stating, "We want to ensure individuals in Sulphur Springs don't have to go to Dallas for opportunities. When we tie it to the Stew contest or Claws (for a cause) event, solar is for everyone, and we want to make sure the event is for everyone too. Offering free admission for kids 12 and under gives accessibility to the event, which is super important to us."
𝐇𝐞𝐫𝐞 𝐚𝐫𝐞 𝐬𝐨𝐦𝐞 𝐚𝐝𝐝𝐢𝐭𝐢𝐨𝐧𝐚𝐥 𝐝𝐞𝐭𝐚𝐢𝐥𝐬 𝐭𝐨 𝐤𝐞𝐞𝐩 𝐢𝐧 𝐦𝐢𝐧𝐝 𝐟𝐨𝐫 𝐭𝐡𝐞 𝐛𝐢𝐠 𝐝𝐚𝐲: Kids will still need a ticket, but parents and guardians can pick them up for 𝐅𝐑𝐄𝐄 at all locations where stew tickets are sold, once they become available. Moreover, to make it easier for little ones, kids will receive a slightly smaller bowl with Signature Solar's logo, which can be collected from the serving tents on the day of the event.
We are beyond thrilled about this sponsorship and want to express our deepest gratitude to Signature Solar for being this year's "𝐊𝐢𝐝𝐬 𝐄𝐚𝐭 𝐅𝐫𝐞𝐞" sponsor. Together, we are making the Hopkins County Stew Contest a memorable experience for families, and that's what community is all about.