Hopkins County Stew Contest – The Stew Bowl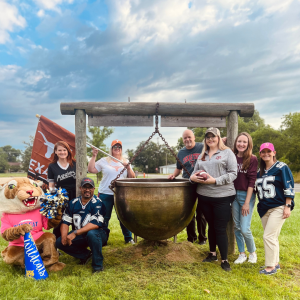 We're thrilled to present the 54th Hopkins County Stew Contest: 𝑻𝒉𝒆 𝑺𝒕𝒆𝒘 𝑩𝒐𝒘𝒍
This year, we're turning up the competition with some inspiration from College Football Bowl Games. We encourage all talented cooks to bring their A-game and embrace a friendly spirit of competition!
The competition kicks off on October 27th with our Annual Friday Night Tailgate Contest, followed by the main event and "game-day" on Saturday, October 28th. Be sure to mark your calendars for the ultimate STEW SHOWDOWN!
𝙇𝙤𝙜𝙤 𝘾𝙤𝙣𝙩𝙚𝙨𝙩 This year's logo contest is now underway! Don't miss out on this opportunity to have your design on our Stew t-shirt, Stew posters, and marketing publications! The lucky winner will receive an incredible prize package, including 4 stew tickets, 4 t-shirts, 1 quart ticket, and 1 parking pass.
To enter the contest, simply submit your logo design using the link below. The deadline for submissions is June 6th at 4 pm. We accept logo designs in JPEG, PDF, and PNG formats. So, fire up your creativity, and let your imagination run wild. We can't wait to see what you come up with!