Experience the Majestic Longhorns at G3 Longhorns Ranch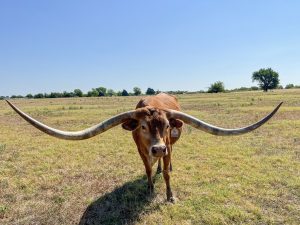 Just beyond the bustling city limits lies a hidden gem for all the nature and animal enthusiasts out there. Welcome to G3 Longhorns Ranch, owned by the passionate couple, Brittany and Josh Gentry. This working ranch is dedicated to breeding and raising Registered Texas Longhorns, showcasing the beauty and heritage of this iconic American breed. If you've ever been curious about these magnificent creatures, G3 Longhorns Ranch offers an unforgettable opportunity to get up close and personal with them.
One of the main attractions at G3 Longhorns Ranch is their guided tours. These tours provide visitors with a behind-the-scenes look at the day-to-day operations of the ranch. From learning about the breeding process to witnessing the care and feeding of the Longhorns, you'll gain a newfound appreciation for the dedication and hard work that goes into maintaining such a remarkable place.
During the tour, you'll also have the chance to meet some of the stunning Longhorns that call G3 Longhorns Ranch home. One particular standout is Sailor, a truly impressive animal that has earned the title of "boss hog."  With their distinctive long, curved horns and striking colors, the Longhorns are sure to leave you in awe.
To ensure a personal and enjoyable experience, it is recommended to book your ranch tour in advance. Reservations can be made by visiting the G3 Longhorns website at http://www.g3longhorns.com/contact or by emailing [email protected]. The cost for a family tour is $20, making it an affordable outing for all.
G3 Longhorns Ranch is not just a place to admire these magnificent creatures; it's also a testament to the Gentrys' passion and commitment to preserving the legacy of Texas Longhorns. Through their ranch, they aim to educate and raise awareness about this incredible breed, ensuring its continued appreciation for generations to come.
So, if you're looking for an extraordinary adventure right on the outskirts of the city, make sure to visit G3 Longhorns Ranch. Take a step into the world of these iconic creatures, marvel at their beauty, and leave with memories that will last a lifetime. It's an opportunity you don't want to miss!