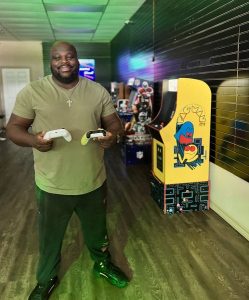 Owned by Calvin Hickerson of
Rythmic Productions Music Studio
, CJ's Fun Room is located at 1217 South Broadway Suite D (next to Curry Pools) and is now open to the public!
 CJ's Fun Room is new in our community, and features multiple arcade and video games, music concessions, and can be rented for parties or events, as well as being open to the public.
But that's not all – CJ's Fun Room is owned by Calvin Hickerson, a true pillar in our community who has demonstrated innovation, hard work, and grit throughout his career. Calvin is a successful entrepreneur who owns several local businesses and has been an active member in our community!
With CJ's Fun Room, Calvin has once again proven his commitment to Hopkins County by creating a fun and safe space for families and kids to enjoy.
Starting tomorrow, CJ's Fun Room will be open to the public on Thursday through Saturday, with an entry fee of $10 for 1 1/2 hours of play. See you there!