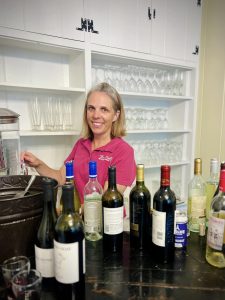 Tucked away inside The Oaks Bed and Breakfast at 516 Oak Ave, this charming lounge is the perfect place to unwind, sip on quality beverages, and savor delectable tapas. With its friendly atmosphere and a fantastic selection of wine, craft beer, and tasty bites, we guarantee you'll have a wonderful time at the Tipsy Oak Lounge.
Last week, we had the pleasure of attending the soft opening of the Tipsy Oak Lounge, and it was an absolute delight! The owners, Allison Libby-Thesing and her husband Ben Thesing, have put their hearts into creating a truly memorable experience for all guests. From the moment we stepped inside, we felt a warm and inviting ambiance.
They have a great selection of wines and a carefully curated collection of craft beers. One of the highlights of the Tipsy Oak Lounge is their tapas menu. These small plates are perfect for sharing with friends or enjoying as a light meal.
Ready to plan your visit to the Tipsy Oak Lounge? They're open every Thursday, Friday, and Saturday from 4:00 PM to 8:00 PM. Whether you're seeking a cozy spot for an after-work drink, a casual get-together with friends, or a romantic date night, the Tipsy Oak Lounge is the perfect destination.