Friday Business Spotlight: Alliance Bank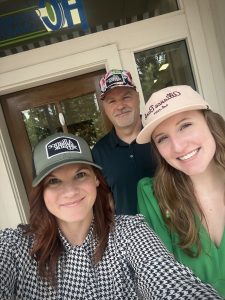 As the Chamber of Commerce, we are thrilled to shine a spotlight on Alliance Bank, a true gem within our community. With their unwavering commitment to fostering growth and supporting local businesses, Alliance Bank has become a reliable ally to individuals and entrepreneurs alike.
Since its establishment in 1927, Alliance Bank has been a driving force behind the economic development of our region. Their deep-rooted connection with the farmers of Hopkins County is a testament to their dedication to building strong relationships. From helping farmers transition cotton fields into flourishing dairy farms during the Carnation milk plant era to their continued support of the agricultural community today, Alliance Bank has played a vital role in shaping our local economy.
During times of adversity, Alliance Bank has stepped up to the plate, proving themselves to be a steadfast partner for businesses in need. When the pandemic struck, they went above and beyond by processing numerous Paycheck Protection Program (PPP) loans. Their swift actions helped secure jobs for our friends and neighbors, ensuring that our local businesses could keep their doors open. Alliance Bank's unwavering support demonstrated their commitment to the well-being of our community.
Expanding their reach far beyond Hopkins County, Alliance Bank now serves Greenville, Wolfe City, Commerce, Rockwall, and McKinney. Their dedication to providing exceptional financial services has extended to the acquisition and operation of Galyean Insurance Agency and Alliance Bank Financial Services. With this diversification, they have become a one-stop solution for all our community's financial needs, simplifying the lives of our residents and business owners.
What truly sets Alliance Bank apart is their extraordinary involvement in our community. Their sponsorship of numerous events, enthusiastic employee volunteers, and unwavering support for local causes have made them an integral part of our town's fabric. Whether it's supporting a cause, empowering a program, or joining forces with organizations, Alliance Bank is always at the forefront, investing their resources, time, and encouragement. Our community wouldn't be the same without their active participation and generous contributions.
Alliance Bank embodies the essence of a true community partner, and their impact is felt throughout our entire region. As the Chamber of Commerce, we are immensely grateful for their ongoing support and unwavering dedication to the success of our community.