CHAMBER CONNECTION March 17
This weather is making us think about golf, and our annual tournament is getting close to full!  If you are interested in playing, call the Chamber at (903) 885-6515 to reserve your spot.  We will have morning and afternoon tee times available.  The tourney is set for Friday, April 9th.  It's going to be a great day!!
SAFE-T Crisis Center to celebrate their 14th Anniversary
SAFE-T Crisis Center is celebrating its 14th Anniversary on Wednesday, March 24 in its new facility located at 1716 Posey Lane in Sulphur Springs. Mark your calendars!
Pacheco Spine & Sport has scheduled a ribbon-cutting
Pacheco Spine & Sport has scheduled a ribbon-cutting celebration on Tuesday, March 30th, at noon.  The celebration will be held at their chiropractic office located at 1067 Gilmer Street, Suite C, in Sulphur Springs. Please make plans to attend!
Ribbon Cuttings:
McCullough Paint hosted a ribbon cutting
McCullough Paint, located at 3913-B Wesley Street in Greenville, Tx., hosted their ribbon-cutting celebration on Wednesday, March 10th at noon.  McCullough Paint offers Benjamin Moore painting solutions for your home and office, so give them a call for your next project.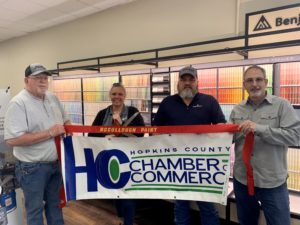 Business Highlight:
The Hopkins County Chamber of Commerce is highlighting a member of the Chamber each week.  Please join me in congratulating our Business of the Week for March 17th, Janeen's Country Cottage. You can read biographical stories at the Hopkins County Chamber of Commerce's Facebook page and Instagram page.