BUSINESS OF THE WEEK Lonestar Web Group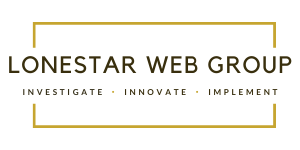 Brrrrrr…
It may be super chilly today, but we have a "Business of the Week" that will warm your heart!
We're putting Lonestar Web Group in the spotlight! LWG "provides affordable, simplistic and informative web design to businesses, individuals, and non-profit organizations across Northeast Texas."
Bethany Ferrall started the business in 2016, and described it as a "cart before the horse" situation, but she said it has been a blessing. The name of her business was actually inspired by the best dog she ever had, "Lonestar," who she described as reliable, consistent and always made everyone smile or laugh.
Her web design/development experience began with her first job after graduating college, where she actually had to teach herself how to be a web master and found herself to be in love with the logic behind the work and the ability to create something out of nothing. Now, through her own business, Bethany can provide hourly consultations, monthly service agreements and annual contracts and work to fit the needs of your budget. She can also help you come up with the best plan for maintaining and updating your website, whether it be done for you, with you, or she provides the training for you to do it on your own.
Let's get to know Bethany Ferrall, the owner of our Business of the Week…
"My name is Bethany Ferrall and I am a native Texan, born and raised in Dallas. I moved to South Carolina to attend college at the University of South Carolina, where I met my husband who was living there for work. We got married, in South Carolina, in June of 2013 and then moved to Texas for his job in September of 2013. I was working remotely as a recruiter, and in 2014, I got a full-time job in Career Development at Texas A&M-Commerce. I love the work I do for the university and enjoy helping students design a life they love. In 2015, we had our first daughter, Charlotte, and in 2021, we will welcome our second daughter, Macy! Lonestar [mentioned yesterday] passed away shortly after my dad (we joke that they couldn't be apart – they were best buddies) in 2017, and we adopted a new dog, Posey in early 2019. We love the life we have built here and look forward to seeing what the future holds."
We want to add that Bethany also shared about how her biggest inspiration is her family, and every decision she makes revolves around them. Her dad, who was mentioned in the statement above, introduced her to marketing, planning, and entrepreneurship, and she told us that, though he passed away in 2017, she will often try to think of what he would do in certain situations and follow his lead.
Happy Friday, everyone! For your early Valentine's Day gift from us, we are giving you a special message from Bethany Ferrall, the owner of our
#BOTW
… Enjoy!
"Building a new website doesn't have to be intimidating or time-consuming, or really all that expensive. A basic website helps increase your Google search reach, social media influence, and reputation in the community. I started this company because when I first moved here, it was so hard to find menus for restaurants, operating hours, contact information, etc. for local businesses, and I want to help remedy that for other people relocating to Sulphur Springs. Breaking into a small town can be tough and the places we first visited and loved were always the ones that had a welcoming, informative web presence. Sulphur Springs is such a special community and I'm proud to be a part of it!"
We hope you enjoyed learning more about Bethany and Lonestar Web Group! Have a great weekend and a very Happy Valentine's Day!
Stay safe & warm!
#ChamberLove