CHAMBER CONNECTION January 28
We've been busy here at the Chamber to start the 2021 year! I have a Save the Date for you!  Please save the date for our annual Chamber Golf Tournament on Friday, April 9th.  Let's hope for beautiful weather and so much fun!!
Just a quick reminder… I wanted to let you all know that after five wonderful years here at the Chamber, I will be resigning my position in the middle of April.  The Chamber is currently accepting applications for the President/CEO position.  A job description and list of qualifications can be found on the Chamber Facebook page and on the Chamber website.  Additionally, interested applicants may call the Chamber at (903) 885-6515 to receive these documents via email.  All applications, resumes, and cover letters must be received at the Chamber by Friday, February 12th at noon to be considered.  Application packets may be submitted via email to [email protected], or by mailing them to 110 Main Street in Sulphur Springs.
Ribbon cuttings:
Modern Woodmen Fraternal Financial hosted their ribbon cutting celebration
Modern Woodmen Fraternal Financial hosted their ribbon cutting celebration on Wednesday, January 20th, at noon.  They are located at 1428 S. Broadway in Sulphur Springs and specialize in financial planning for your business.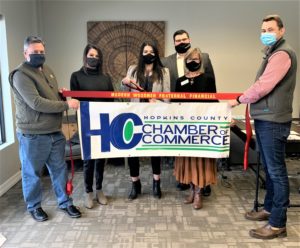 Business Highlight:
The Hopkins County Chamber of Commerce is highlighting a member of the Chamber each week.  Please join me in congratulating our Business of the Week for January 28th, Foster's Place Restaurant & Pub. You can read biographical stories at the Hopkins County Chamber of Commerce's Facebook page and Instagram page.