BUSINESS OF THE WEEK

One Soul Yoga & Wellness Center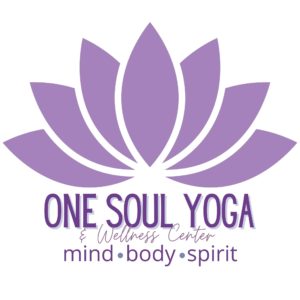 We are THRILLED to announce that "Business of the Week" is BACK!
We're starting our new year of business highlights with One Soul Yoga & Wellness Center.
One Soul is a yoga studio and wellness center that is for the mind, body and spirit. Located at 1008 Main Street in Sulphur Springs, they offer a wide variety of approximately 22 classes per week to fit all schedules, skill levels, fitness levels and body types. In addition to classes, they offer workshops and special events throughout the year and free outdoor community yoga, "Yoga on the Square," during the Spring and Summer months.
In their exact words, "Yoga is for everybody and every BODY… While yoga does greatly benefit flexibility and strength, it is not just about fitness or getting into impossible poses. Yoga unifies the mind, body and spirit by emphasizing breath control, concentration, meditation, movement, stretching and intention-setting. It helps us find a deeper mind/body connection and can bring a sense of purpose and peace."
One Soul Yoga & Wellness Center, is a cooperative effort among co-owners and instructors Clay Pirtle, DeAnna McDearmont, Rachel Finney, Leah Conner and Allison Martin. Together, they opened the studio in September of 2019 and moved into their current, permanent location (1008 Main Street) in September of 2020. Clay had been teaching in a rented room for a few years, while the rest of the group was finishing their yoga teacher training. It was at that point when he approached them about coming together to open a studio. Because there wasn't another yoga studio serving the area, they took advantage of the opportunity to fill a need within the community.  What's so wonderful about One Soul is their ability to meet the needs of anyone. Each instructor has their own individual teaching styles and interests, so they are able to offer a wide variety of classes for you to choose from. To get to know the One Soul team, you can read a short bio for each of the co-owners below!
The instructors at One Soul Yoga & Wellness Center truly have a passion for practicing and teaching yoga. When we asked them what they're most inspired by, they told us that it's rewarding when students tell them that yoga has helped them accomplish their goals. For some, that goal is losing weight or lowering their blood pressure, and others are excited about their increased flexibility. They also shared that yoga offers a different perspective to those who attend classes regularly, and they have heard more than once that yoga has changed the life of a student. The One Soul team wants you to know that yoga can be practiced by all ages, all walks of life and all religions and faiths. It's for everyone and can enhance all areas of your life.
Now that we've told you about who they are, what they do and why they do it, you may be wondering, "What's next?"
Well, it's time for you to try out a class, if you haven't already! The included calendar lays out the variety of classes they offer, but pay close attention to the workshops they have coming up as well!!! On this calendar, you will also see information about their pricing. In addition to that list, they offer a $20 new student trial, which is good for 7 consecutive days and will allow you to test out as many classes as you like, within that period, to see what is best fit for you.
To find class descriptions, schedules and registration for all classes, you can visit their website at
www.onesoulyogastudio.com.
We also recommend that you visit their Facebook and Instagram pages (One Soul Yoga Studio). To get in touch with them, you can message them on Facebook or email them at
[email protected]
.
We had a BLAST getting to learn and share more about One Soul, this week! We encourage you to go try out a class, as they are able to modify them to fit any needs and skill levels. The start of 2021 is the perfect time to try new things! Have a great weekend, everyone!!!
#ChamberLove