CHAMBER CONNECTION July 23
I know that you are all wondering about the 2020 Stew Contest, and whether or not it will be cancelled.  The answer is… we don't know yet, but the Chamber is doing everything in our power to plan this year's stew in a way that will keep everyone safe.  Cooks' letters have been mailed out this week.  Once we know how many cooks will be cooking in the contest, we will take our safety and logistics plan to our city and county officials.  We will all sit down together to make a decision.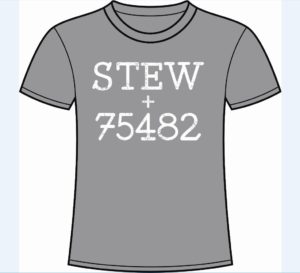 Until then, we have something fun for you!  Last year, we sold a very limited number of shirts that we named Stew + 75482.  We are bringing these back by popular demand!  These are not the shirts that will be sold for the 51st Annual Contest (BRACE yourself for those!), but these shirts celebrate Stew and the location in which it is held.  You may purchase these in short sleeves, long sleeves, and hoodies; and you may choose light grey or royal blue. Call the Chamber to place your order!
The deadline is fast approaching for the upcoming Adult Leadership class.  The Adult Leadership Class is a community leadership development program sponsored by the Hopkins county Chamber of Commerce.  The course was created in 1989 with the concept of offering leadership training and community involvement for emerging business and community leaders. Leadership Sulphur Springs is a nine-month session, with meetings held once a month. For more information and to get an application, please call the Chamber of Commerce at 903-885-6515.  Deadline to apply is August 1st.
Bare Bone BBQ & Soul Food hosts ribbon cutting
Bare Bones BBQ & Soul Food will host a ribbon cutting celebration on Thursday, July 23, at noon.  They are located outside of Backstory Brewery, 211 Magnolia Street in Sulphur Springs.  Make plans to come by and welcome this business to Hopkins County.  Please wear a mask if attending.
Goodwill is hosting a bottled water drive
Goodwill is having a Bottled Water Donation Drive from July 15th through August 15th. They are collecting cases of water (6 bottles and up) to deliver to the homeless shelters and food banks.  They will accept water donations at our local store located at 1320 Shannon Road W. in Sulphur Springs.
Hunt Regional is offering Mobile Mammography Coach in Sulphur Springs
Hunt Regional Hospital is offering the Tubby Adkisson Memorial Mobile Mammography Coach on July 29th in the Spring Village Shopping Center in Sulphur Springs.  All insurances accepted at Hunt Regional are also accepted for the Mobile Mammography Coach, including Medicare and Medicaid.  To schedule individual screening mammograms, please call (903) 408-5010. Appointments and pre-registration are requested.
Business Highlight
During the year 2020, The Hopkins County Chamber of Commerce is highlighting a business each week.  Please join me in congratulating our Business of the Week for July 23rd, Northeast Texas Heart of Hope. You can read biographical stories at the Hopkins County Chamber of Commerce's Facebook page and Instagram page.