CHAMBER CONNECTION February 6
We are one week away!  It is with great pleasure that the 2020 Board of Directors invites you to the 94th Annual Hopkins County Chamber of Commerce Banquet on Thursday, February 13, at 6:00 p.m. at the Hopkins County Regional Civic Center.  Tickets are already going fast! We will host a Networking Cocktail Happy Half Hour at 6:00 p.m. Dinner will be served at 6:30, and the awards will follow at 7 p.m.  Please take this opportunity to bring your family, friends, and employees to an evening of dinner and community awards including Large and Small Business of the Year, Educator of the Year, Caregiver Award, Agriculturist of the Year, Woman of the Year, Growth and Renewal Award, Community Pride Award, and Citizen of the Year.  Our banquet theme is "Be the Light" and focuses on positivity and community pride moving into the next decade. It promises to be one of our most beautiful and unusual banquets to date. We are excited for you and your business to join us for this extraordinary evening. Please make your reservation TODAY by calling the Chamber of Commerce, (903) 885-6515, or by stopping by to visit at 110 Main Street in Sulphur Springs.  
Dan Flynn to host Commissioner Wayne Christian
State Representative Dan Flynn is being honored at a special dinner with a special guest on Wednesday, February 12th from 6 p.m. to 8 p.m. at the Fletcher Warren Civic Center, 5501 Bus. US 69-D in Greenville.  Commissioner Wayne Christian, Chairman of the Texas Railroad Commission, is the guest speaker.  Free admission to this event.
Doc Collins to host concert
Doc Collins, candidate for District 2 State Representative, is hosting a concert on Friday, February 14th at the Hopkins County Civic Center at 7:30 p.m.  This is a family friendly event with an entertaining production of "This Cowboy Ain't Dead Yet" by RJ Vandygriff.  This event is free of charge to attend.
Cornerstone Insurance to host ribbon cutting
Cornerstone Insurance will host a ribbon cutting celebration on Friday, February 21, at noon.  They are located at 2104 Monroe Street in Commerce. Please make plans to attend to learn about the services Cornerstone has to offer.
Ribbon Cuttings:
Julia Wilhite State Farm hosted anniversary ribbon cutting celebration
Julia Wilhite State Farm hosted a one-year anniversary ribbon cutting celebration on Wednesday, January 29th at noon.  This office is located at 1030 Gilmer Street.  Congratulations to Julia on her first year at State Farm!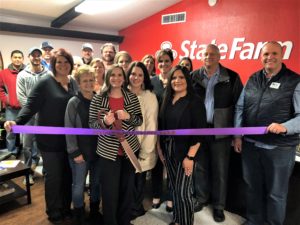 Uptown Cutts held their ribbon cutting celebration
Uptown Cutts, located at 1402 Mockingbird Lane in Sulphur Springs, held their ribbon cutting celebration on Tuesday, February 4th at noon.  Uptown Cutts offers a full array of hair salon services, and walk-ins are welcomed.  Congratulations to Sherry and the whole staff at Uptown Cutts!